【Okonomiyaki Lecture and Tasting】 in New York
【Okonomiyaki Lecture and Tasting】
Tuesday, March 3, 2015 6:30 to 8:45 pm
JAPAN SOCIETY : 333 East 47th Street New York, NY 10017
Click here (Event contents on You Tube) ↓
Taste of Home Series Flipping Out: Okonomiyaki
Japan Society sponsored a lecture and tasting of traditional Okonomiyaki along the theme of
"Okonomiyaki and the taste of Japanese home cooking."
Okonomiyaki is made in homes, restaurants, and food stalls all throughout Japan and is a very beloved dish for Japanese people. However, the correct cooking method and philosophy is not known in the Unites States and opportunities to demonstrate it are not that common.
At this event, Hiroshima's own Okonomiyaki Academy Chairman, Shigenori Matsumoto, will introduce the traditional methods for cooking Kansai and Hiroshima Style Okonomiyaki using a variety of ingredients to introduce this healthy and delicious menu item.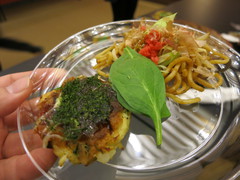 Samples of a tofu based Kansai Style Okonomiyaki and Yakisoba were served at the adjacent Tasting Corner.
They served 250 portions at the event and the flavors of Japan were very well received.