Okonomiyaki, Takoyaki and Yakisoba are even more enjoyable with delicious sauce.
Here, we look into why our sauce is loved all over the world!
OKONOMIYAKI
Okonomiyaki is such a popular local dish that 90% of Japanese people say they like it. It packs plenty of vegetables for well-balanced nutrition and a healthy meal. Okonomiyaki is also popular because it's easy to make and anyone can add their favorite (okonomi) ingredients, making it fun for everyone. (Source: 2018 survey in Japan by Otafuku)

TAKOYAKI
Takoyaki is an octopus ball which is grilled in a flour-based battr and topped with sauce and dried bonito flakes. Once you taste it, you will definitely want more.
In the past, Takoyaki was mainly popular in Osaka, but these days it is well loved throughout all of Japan.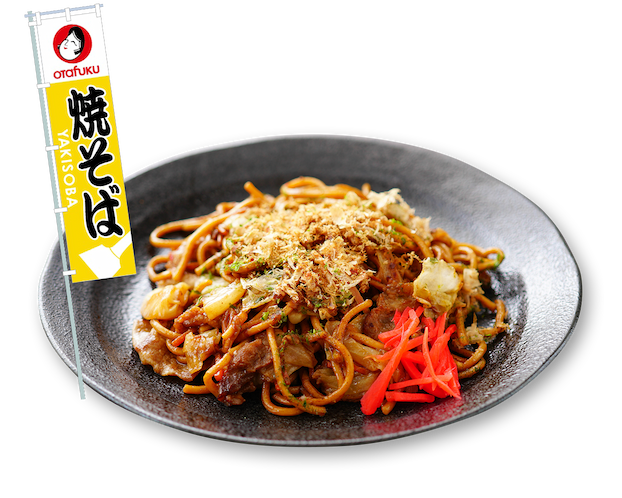 YAKISOBA
Yakisoba is Japanese stir fried noodles. Yakisoba is usually fried with sliced pork and vegetables like cabbage and bean sprouts. It is a very popular casual food everyone likes in Japan.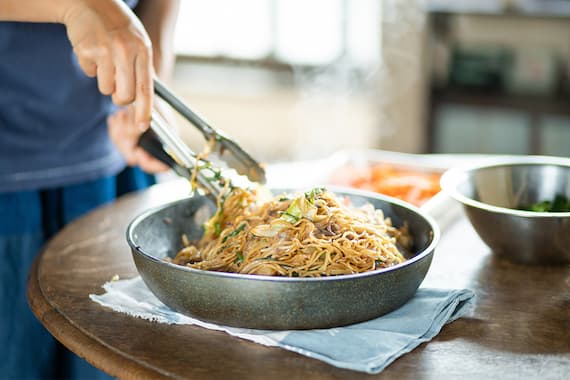 A Classic Japanese Home-Cooked Dish
For many Japanese people, thinking of lunch on days off instantly evokes Yakisoba. That is how beloved Yakisoba is in Japanese households. In Japan, delicious Yakisoba are easily available in many forms - such as at restaurants, festival stalls, as supermarket side dishes, and cup noodles - as well as cooked at home.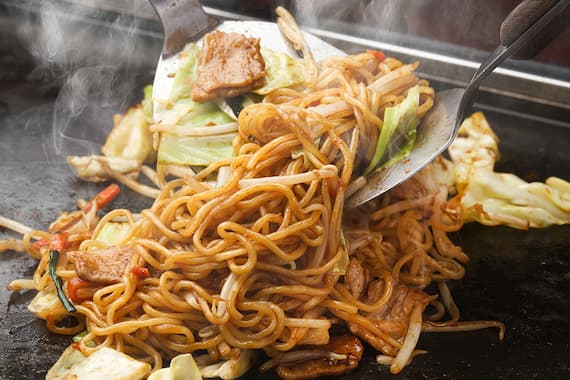 The History of YAKISOBA
It is believed that Yakisoba really started to gain popularity in Japan after the war. From around 1950, the basement dining halls of Japanese department stores were constantly crowded with housewives on their way home from shopping, students heading home from school, and office workers looking for a quick lunch. A popular dish in those dining halls was Yakisoba, made by grilling noodles on a hot plate and featuring the enticing aroma of frying sauce.
Otafuku Meets YAKISOBA
At Otafuku, we created our first Yakisoba sauce in 1960. It was eight years after we began making Okonomi Sauce. At that time, Yakisoba was made in Hiroshima using Worcestershire sauce only, Okonomi Sauce only, or blending both sauces. However, we received feedback that Worcestershire sauce has too strong spiciness and acidity, and that Okonomi Sauce is a little sticky and a little too sweet, encouraging us to create a sauce tailor-made for Yakisoba. After many years of research and repeated taste testing, the special Otafuku Yakisoba Sauce - featuring full-bodied seasonings and a distinctive savory flavor - was at last perfected in 1960.
Even now, we continue to develop a wide range of products so that people around the world can enjoy the distinctively-Japanese flavor of Yakisoba, wherever they might be.
How to Cook YAKISOBA!!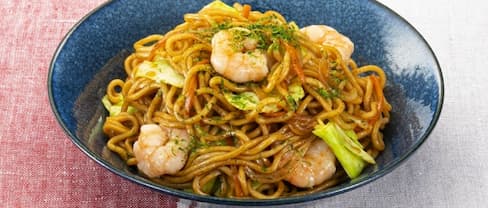 Tips for making crisp Yakisoba
Stir-fry over medium to high heat!

Add the noodles early on and fry them thoroughly!

Fry quickly after adding the Yakisoba Sauce!
To Take the Flavor to the Next Level
the timing of adding Tempura Crisps is critical!
Steam them with the cabbage to enhance the savory flavor!

Add them just before the sauce to increase the flavor's impact!

Add them on top of the finished Yakisoba to enjoy the crunchy texture!
Perfect Kit for Trial
This product provides the noodles and sauce together. To easily make authentic Yakisoba, all you need are the fresh ingredients.
Delicious Yakisoba noodles that are simple to untangle and cook. No egg white is used.

A special Yakisoba Sauce with the sweetness of plenty of fruits and vegetables. Containing no animal products makes it suitable for vegans.